Early 2020: Ken Waldman at Folk Alliance, and beyond (now early 2021, a year beyond)

If you found your way here, Ken Waldman likely reached out to you prior to the February 2021 online Folk Alliance Unlocked virtual conference.
What a year, from a January Folk Alliance in New Orleans to wherever we all are in 2021!
Early 2020, Ken was indeed in New Orleans for Folk Alliance, then had nearby local events--scroll to the bottom for that bit of nostalgia. Mid February he had a gig at University of Arkansas-Monticello, then to Lafayette, Louisiana where amid Mardi Gras activities he recorded videos with music and life partner, Lizzie Thompson. Then Lizzie flew to her temporary rental/retreat in SW Virginia, and Ken had several Texas dates just as the world began to shutter. He recalls leaving Beaumont TX early Wednesday morning, March 11 after his Lamar University gig, running quick errands later in Lafayette and New Orleans, then taking off to Virginia for his Friday March 13 gig with Lizzie in Warrenton VA (joined by fiddler and singer, Abigail Hobart--see photo). They squeezed in the show, Ken's last live gig until February 18-20, 2021 where he's joined by Willi Carlisle for a three-day residency in Henderson NV (and their Saturday, February 20th show looks to be live-streamed--be in touch to see if we can hook you up that; see the flyer below).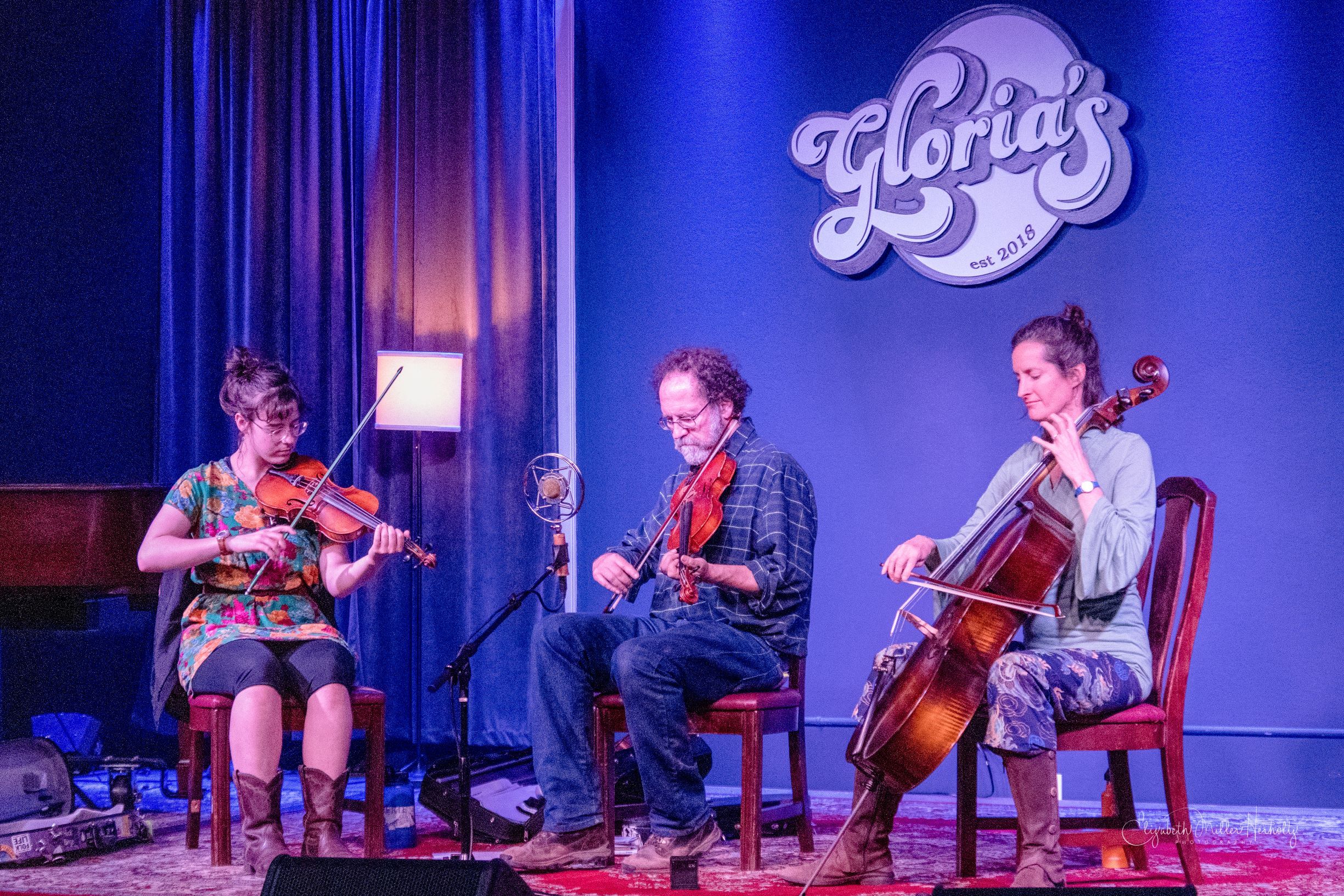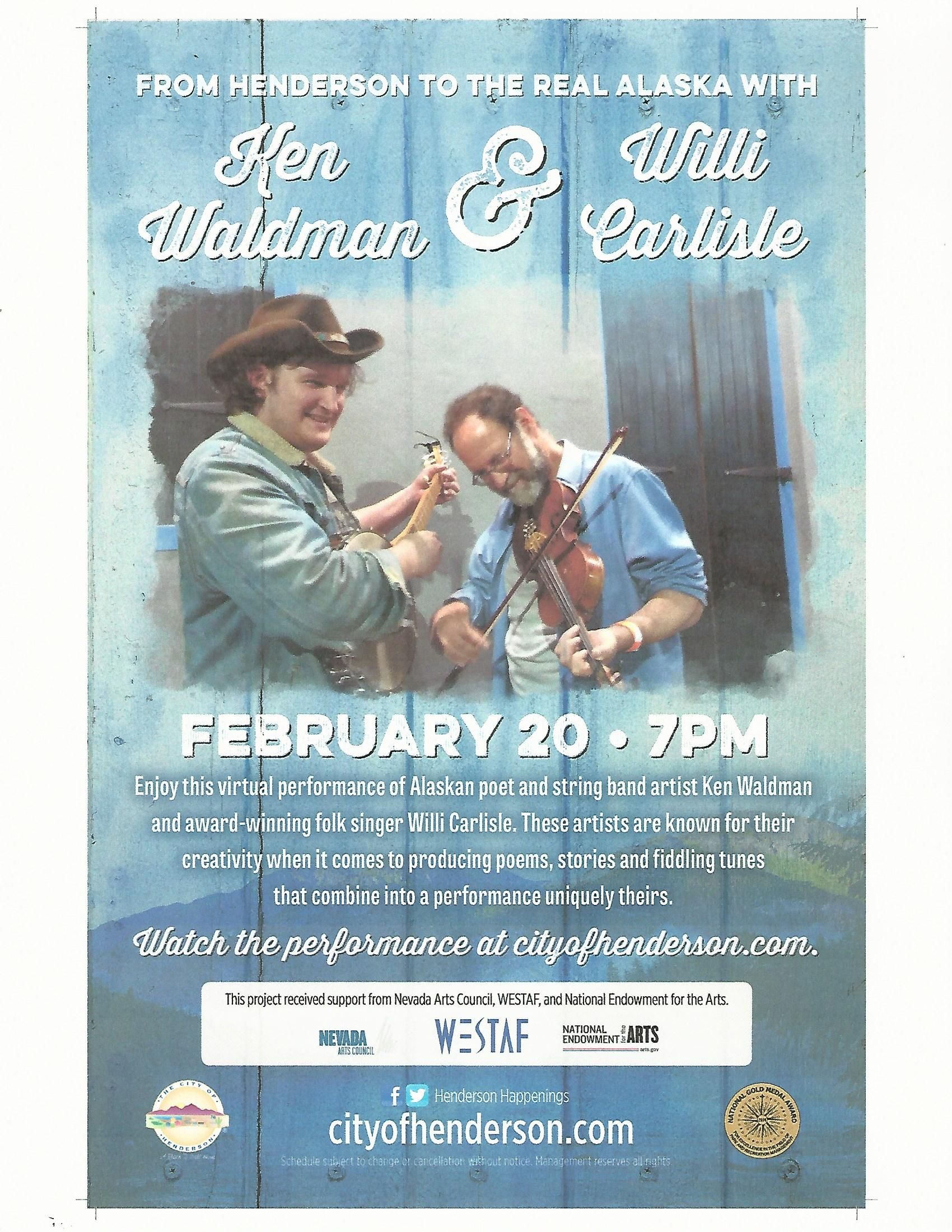 Ken was supposed to visit Lizzie in Virginia until March 23. Now, almost 11 months later, he's still there, visiting. Though Ken has done a few online events--if you're curious, he can point you to his set with Lizzie Thompson at the May 9-10, 2020 Anchorage Folk Stay-at-Home Festival--mainly he's been holed up in a safe and comfortable place, writing. He's been fortunate. It's been a productive time and he's written and had published three new books since March (and there's more to the new writing than that, but this link gives an idea).
For now, it looks like a long, slow homestretch to whatever will be the new normal.
Ken has plenty more he could say. Yes, he knows this kenwaldman.com website is sprawling--but that's because Ken does lots of different things. The 11 minute, 40 second "showcase" video that's below attempts to explain. Alert viewers who know their American roots artists will catch (in photo or video) some friends Ken can have join him at shows: Aaron Jonah Lewis, Nic Gareiss, Brian Vollmer, Claire Byrne, Tom Bailey, Max Johnson, Chris Miller, Laura Cortese, Jenna Moynihan, Ryan Drickey, Richie Stearns, Riley Baugus, Evie Ladin, Beth Chrisman, Willi Carlisle, Kevin Carr, David Greeley, and more.  
More information? Ken always aims to be of service!
Wednesday, January 22-Thursday, February 6, 2020 Ken Waldman will be in and around New Orleans for Folk Alliance and other events.
At Folk Alliance, Ken Waldman will be doing four different indie showcases
Thursday, January 23, 10:30 pm-10:50 pm, Chicago Mike's Music Joint, Room #910  (joined by The Wild Ones, featuring Willi Carlisle)
Friday, January 24, 12:10 am-12:30 am. Alan Rowoth's Big Orange Tarp, Room #1227 (joined by The Wild Ones, including Mark Palms)
Friday, January 24:  1:10 am.-1:30 am, Chicago Mike's Music Joint, Room #910 (joined by The Wild Ones, featuring Willi Carlisle)
Saturday, January 25, 1:15 am-1:35 am, Jelly Roll Morton Traditional Music Room #1231 (joined by The Wild Ones).
None of these will be solo: Ken expects to be joined by The Wild Ones, among them might be Willi Carlisle, Mark Palms,
Brett Ratliff, Ryan Spearman, and others. Otherwise, he'll be around the conference.
Sunday, January 26, Ken will be featured at the iconic Maple Leaf Bar Poetry Reading (approximately 3:30 pm).
It's Uptown New Orleans.
Thursday, January 30, Ken Waldman, Dan Wally Baker, Natalie Mae Palms, and Mark Palms will be at Lafon Performing
Arts Center in St. Charles Parish.
Monday-Thursday, February 3-6, Ken Waldman will be in Slidell to visit schools and on the evening of Thursday, February 6 will lead
a writing workshop and play a public show (and will likely have an accompanist or two).